We're sorry, but all tickets sales have ended because the event is expired.
Five Feet High and Rising: The Geology and History of Great Floods


July 23, 2020




1:30 pm - 3:00 pm

Five Feet High and Rising: The Geology and History of Great Floods


July 30, 2020




1:30 pm - 3:00 pm


- Datetime Description (optional)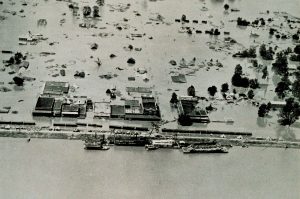 Floods are awesome spectacles and are an essential part of the shaping of our landscape. All the geologic processes of rivers are on display during floods. Hydrogeologist Joe Haberfeld will introduce the stream processes which transport water and sediment during normal flow and during floods. We will look at some of the great floods in American history and around the world. Not all floods are due to rivers overflowing their banks and not all are due to natural causes. Coastal storms, glaciers, and volcanic eruptions can bring flooding, while man-made structures designed to protect against flooding have failed causing great loss of life and property.
This is a 2 session class. Register one time only and you are registered for both sessions.
                                                           Thank you to our sponsor Mulligan Park! 

A Zoom link to join the event will be emailed to you the morning of each class. It will be the same Zoom link for each class, but it is mailed weekly in case new participants are joining the class or participants have lost the link.
This class will be recorded for future viewing on demand

Despite our temporarily closed doors, we are working hard to develop and share opportunities (such as virtual, live and on demand classes) to keep our participants active, optimally aging, and socially fit. Classes, activities, and many of our staff, are funded by donations to the non-profit TSC Foundation.

 

Now more than ever, your support is very important to make this possible and we encourage your donations for virtual and on demand classes, go to www.tallahasseeseniorfoundation.org/make-one-time-gift/ or checks can be mailed to: TSC Foundation, 1400 N. Monroe St. Tallahassee, FL, 32303.
Description:

A link to join this virtual event will be emailed to you.