We're sorry, but all tickets sales have ended because the event is expired.
Painting with Oils and Acrylics for the Absolute Beginner


August 13, 2021 - September 17, 2021




1:00 pm - 4:00 pm
Painting with Oils and Acrylics for the Absolute Beginner! with Fran Buie
Friday Afternoons 1 – 4:00 pm
Tallahassee Senior Center, 1400 North Monroe Street, Tallahassee FL 32303-Art Studio
Class Description
Each session will provide students the opportunity to explore and develop their creative side by creating paintings of subjects of their own choosing. Students will learn perspective, line, color, and value and develop techniques to create paintings in either oil or acrylic. The class will also learn about composition, shaping and shading to give their paintings depth and interest. The instructor will assist students in developing design ideas and creating their own pieces of art.
No drawing or painting experience required.
Instructor
Fran Buie has years of experience painting and exhibiting locally and regionally and has won several awards. She works in realistic and impressionistic styles with a wide range of subject matter including landscapes, seascapes, still life and people.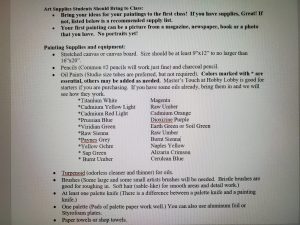 Art Supplies Students Should Bring to Class:
• Bring your ideas for your paintings to the first class! If you have supplies, great! I will have specific supply lists available and will discuss options available if you have not painted before. If you prefer, you may contact me and we can discuss basic items to get you started.
• Stretched canvas, canvas board or canvas paper that has some texture (tooth). Size should be 9"x12" to no larger than 16"x20".
• Pencils (Common #2 pencils will work just fine).
Painting Supplies and equipment (If you do not presently own the items below you may wish to delay getting them until after the first session when you can make a more informed selection.)
• Oil Paints or Acrylic Paints (Studio size tubes are preferred)
• Appropriate thinners and cleanup materials for the painting medium
• Brushes (Some large and some small artists brushes will be needed. House painters 1" to 3" brushes can be handy if you already have them.)
• At least one palette knife (There is a difference between a palette knife and a painting knife.)
• One palette (A pane of glass, 8" x 10" or larger, with the edges taped works well.) You can also use aluminum foil or Styrofoam plates. Palette pads are also available.
• Suitable painting surfaces (You may wait until after the first session to acquire this material. We will discuss in-depth the options available.)
The instructor Fran Buie may be called for specific questions regarding the class or supplies. (850) 544-1703, franbuie@yahoo.com
For Information or questions regarding your registration or payment, contact Jennifer Haskins, 891-4016, jennifer.haskins@talgov.com
Venue Phone: (850) 891-4000
Address:
1400 N Monroe St.
,
Tallahassee
,
Florida
,
32303
,
United States