We're sorry, but all ticket sales have ended.
The Five Wishes


November 19, 2020




1:00 pm - 2:30 pm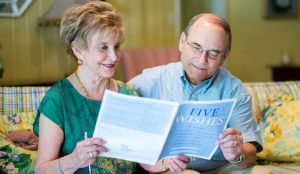 The Five Wishes: User-Friendly Advance Directives
Thursday, Nov 19,  1:00 – 2:30 pm on Zoom 
With all of life's uncertainties, advance care planning is always important;  but during a pandemic, it becomes even more so!  Advance planning ensures that your end-of-life wishes, should you become unable to communicate,  are understood by your  family,  loved ones, and physician. Please plan to attend this interactive webinar about the Five Wishes advanced directive, which addresses personal, emotional, and spiritual issues while meeting medical and legal criteria.  It is written in user-friendly language and empowers you to discuss and document your wishes in a non-threatening, life-affirming way.  Please join this conversation to learn how easy it can be to have those difficult conversations!  Presented by  Aging with Dignity,   a private, nonprofit organization with a mission to safeguard and affirm the human dignity of every person who faces the challenges and opportunities of aging or serious illness. For more info, email ruth.nickens@talgov.com
Description:

A link to join this virtual event will be emailed to you.