Weaving on a Frame


July 25, 2022 - August 8, 2022




1:00 pm - 4:00 pm
Weaving on a Frame 
Leslie Cohen

July 25 – August 8 (3 weeks)
Monday, 1pm – 4pm
Imagine a summer getaway maybe with mountains, cooling river or a shady orchard. Create your abstract woven landscape on your own portable handmade loom.
Materials- picture of a landscape, yarn, string, a fork, tapestry needle that has a eye that is large enough for the yarn to pass through and a picture frame. All Skill Levels Welcome.
Need more information: lastslade@gmail.com
$30
Clay Studio
Register by July 20.
Weaving Examples: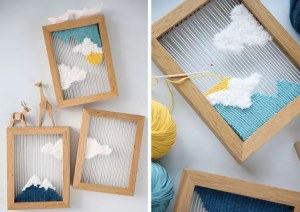 Create with Cohen Series
Make fun and organic art using found objects, nature, and things that would be thrown away.
Create creative and whimsical crafts with Leslie Cohen, former Leon County art teacher. Her classes always bring a smile to your face. All projects use mostly available supplies you have around your home.
Series Includes (sold separately):
Summer Branch Weaving
More to come…
Address:
1400 N. Monroe Street
,
Tallahassee
,
Florida
,
32303
,
United States