Happiest of Birthdays to my twin!
Love you bunches!
– Nina Davis
Happy Birthday Lori!
– Nick Schrader
You inspire us to be better in so many ways! Thanks!
– Nancy Bedford
Hope you had a terrific Bday!
– Jane Parsons
Happy birthday! Let your ducks get "out of a row" now and then and enjoy your next decade!
– Hella Spellman
Happy 60th youngster!
-Mark Baldino
Happy Birthday, Lori! Hoping we can celebrate in-person very soon!
– Allie Vanlandingham, Capital City Trust
Wishing you a fabulous 60th Birthday!!
– Sue Howcroft
Happy Birthday Mom!
– Patrick Swanson
Happy Birthday to a woman who inspires so many through your positive, "we can do this" attitude. You fill our hearts with warm memories. Wishing you fun, happiness and lots of real hugs in the year ahead!
– Linda and Tom Stanciu 
Happy Birthday!!!
– Patti Wallace
A great cause from a wonderful person, happy birthday!
– Mary Caudle 
Happy 60th Birthday Lori! Wishing you many more happy healthy birthdays. Here's to 60!
– Carla and family
Welcome to the cool & happening 60s! Happy birthday!
~ Karen Boebinger
Happy 35th birthday Lori Swanson
– Doug Carlson
Happy Birthday Lori! Hope it's a great one.
– Rebeccah Lutz
Lori, so sunny and, quite a bit funny.
You've got your ducks in a queue,
Happy Birthday to you!
Be well, Susan
Lori! Welcome to the "Cool and Happening Sixty-Chicks!" Keep bringing the laughter and sunshine wherever you are . Happy happy day/month/year!  Love, Ruthi
You inspire us to be better in so many ways! Thanks!
– Nancy Bedford
Happy birthday to my cool and happening friend!
– Linda Roberts
Roses are red, violets are blue, this note is especially for you…I wish you happy every day!!
– Nancy Gentry
Cheers and Happy 60th to a "cool and happening" lady!
– Maureen Haberfeld
60 looks just ducky on you!
– Lisa Dollar Covert
Wishing Lori a fabulous 60th birthday.  May we all have the best fudge recipe or get the pleasure of her bright smile to bring cheer in your life.  – Kristy Carter
Cheers to 60 fabulous years and many more!
– Karin Caster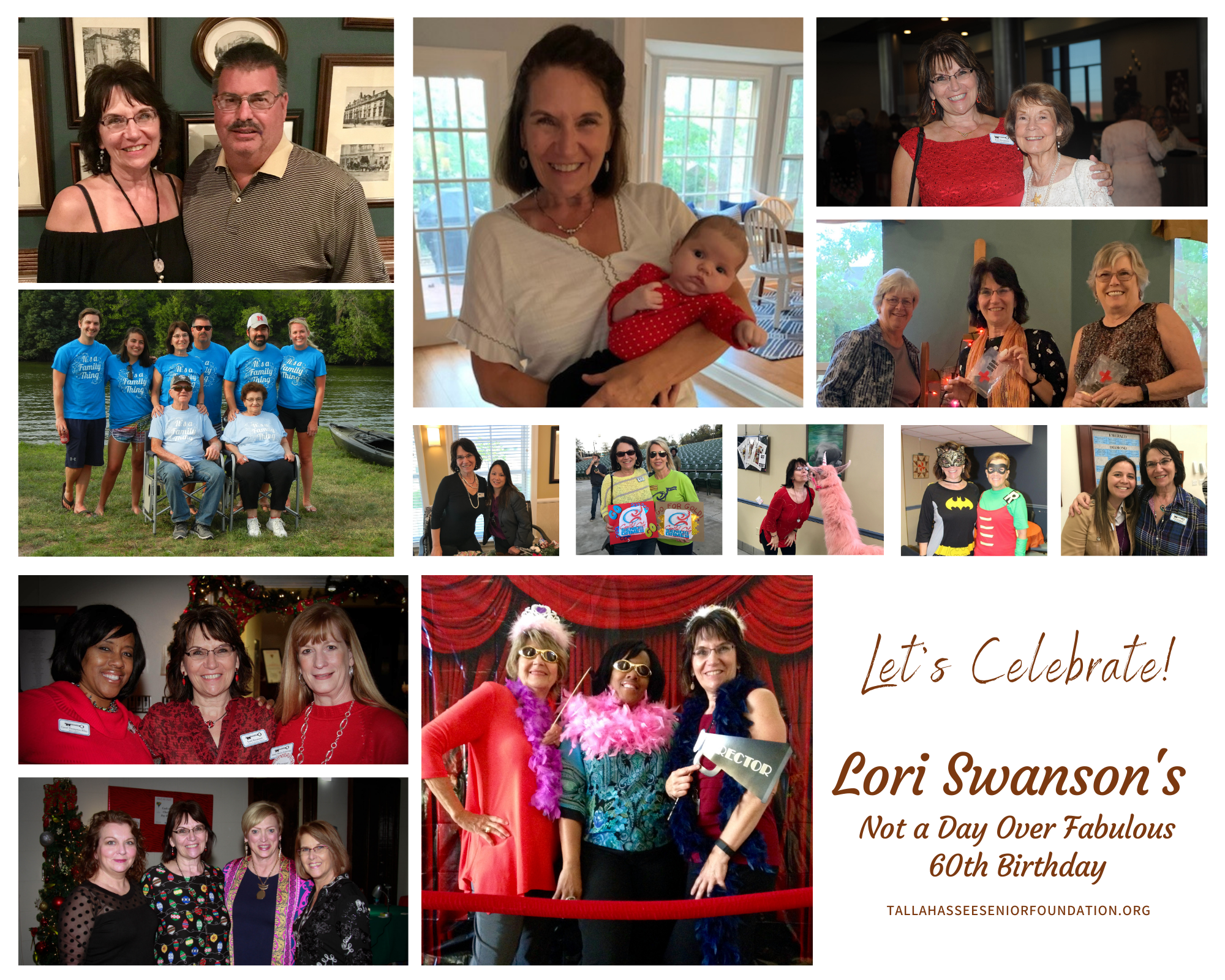 Lori Swanson works at Tallahassee Senior Center Foundation in Community Development. This milestone birthday celebration will honor the Tallahassee Senior Center Foundation. Join Lori in raising $5,000 to support the impact the Senior Center has on adults age 50+ in providing programs that enhance the quality of life for our community's seniors.
"I started working with the Senior Center 5 years ago. My goal is to raise $5,000 – $1,000 for each of those 5 years. Please help me give back to this cool and happening place! I am starting off by giving $1,000.
And to my Top 5 donors – I am making you a batch of my homemade raspberry fudge…or taking you to lunch if you're not into the sweet stuff."
When you donate, add a birthday greeting to Lori and your message will be shared on this page.
Celebrating 60 years with joy, grace, and a dash of sass!
"Big" birthdays are a time of joy and reflection and this 60th birthday has me focused on embracing the possibilities and the opportunities as well as appreciating all that I'm grateful for—my marriage (37 years!), our wonderful family, and the arrival of our first grandchild (Just call me Gigi!), fabulous friendships, and a job that I love.
It has me considering what I still want to accomplish, examining my priorities, and wondering whether I am giving my time and attention where it is most needed. It is so easy to simply be consumed with getting things done, and this season in life is a chance to consider purpose and passion in both our personal and professional lives.
I recently attended a Legacy Planning Workshop at the Tallahassee Senior Center that began with an exercise in asking some life questions to gauge what is important to us. As I embark on this new decade, I have come up with my own set of questions:
What makes me excited to get up each morning?
What activities are fun and meaningful to me?
What type of exercise makes me feel strong and healthy?
What do I still want to learn and what engages me?
How can I better love and serve my family, friends, church, and community?
Life is what we make it, and that is so powerful. Five years ago, I embraced a second career with the Tallahassee Senior Center and Foundation. I found out it is a very cool and happening place with numerous opportunities to learn new things through the Lifelong Learning program, to take fabulous Fitness and Art classes, to learn a new language or play the ukulele, to volunteer, and a host of other activities.
There may be a pandemic, but staying active and engaged is always possible with our Tallahassee Senior Center! We continue to offer all these opportunities in new virtual ways to meet our mission of keeping seniors active and engaged.
Here's how I look at turning 60: I am blessed with an incredible family that includes a beautiful new granddaughter (have I mentioned this?), many special friends that enrich my life, and a job that allows me to make an impact in my community. I am absolutely celebrating 60…not just for the day, the week, or even the month. I plan to embrace and enjoy this birthday all year! Virtual hugs will be accepted throughout 2021! Cheers!