We're sorry, but all ticket sales have ended.
Drawing 102


January 23, 2023 - February 27, 2023




1:00 pm - 3:30 pm
Drawing 102
Libby Watson

January 23 – February 27 (6 weeks)
Mondays, 1 – 3:30 pm
Students who have taken Drawing 101 will continue their drawing journey. This class will focus more on composition and drawing what you see rather than drawing from a photograph. Students will continue to learn and utilize the formal language of art and will be expected to learn the use of new tools in this class. Students will become familiar with the eight elements of composition and expected to interpret these elements in class practice. Students will learn through class the fundamental differences between, forms shapes and volumes as they pertain to drawing. Students will learn about negative space, geometric vs. organic form and how it affects the design of a drawing. The last three classes will include a lecture about art history centered around several specific Renaissance artists that will run during the drawing time.
Course prerequisite:
Students who have not completed the Drawing 101 prerequisite must demonstrate the following requirements:
Working knowledge of the following art fundamentals.
One- and two-point perspective
Various shading techniques
The value scale
Thorough understanding of the tools used in the class
A beginning knowledge of art history
MATERIALS
YOUR CHOICE*:
Box of colored pencils
Box of pastels
You may do your project in mixed media (drawing media only please!)
Faber-Castel Drawing Pencil 2H
Faber-Castel Drawing Pencil HB*
Faber-Castel Drawing Pencil 2B*
Faber-Castel Drawing Pencil 4B*
Faber-Castel Drawing Pencil 6B*
Blending stumps set 2,4,6*
Graphite Pencil (Ebony)*
Black Charcoal Compressed and vine
A sandpaper block
Kneaded erasers
White vinyl eraser*
Strathmore Drawing Pad 18" x 24"*
Handy Sketch Book size ? (mine is 5.5" x 8.5")
Masonite Clipboard 23"x 26"
Painters Tape*, you might prefer bulldog clamps
1-can Krylon Workable Fixative*
2 hole Canister Sharpener
Cork Backed Ruler 18"*
23" x 31" Tran Student Series Portfolio
Toolbox or Art bag*
Portfolio 24" x 30" or larger (only if you intend to stick with art)
Most items are available through Michaels and Amazon.
All of these items are not absolutely required. Only the items with* are required.
More detailed workshop info in the pdf below:
Syllabus – Drawing 102
$60
Art Studio
Register by January 18.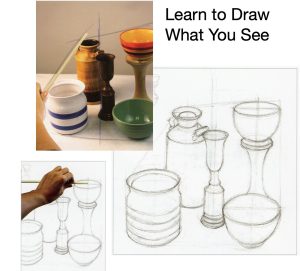 Venue Phone: (850) 891-4000
Address:
1400 N Monroe St.
,
Tallahassee
,
Florida
,
32303
,
United States