We're sorry, but all ticket sales have ended.
Introduction to Zentangle (4 Weeks)


January 18, 2023 - February 8, 2023




1:30 pm - 4:30 pm
Intro to Zentangle® 
Instructor: Starr Payne
January 18 – February 8 (4 weeks)
Wednesdays 1:30 – 4:30 pm
In this Introductory 4-week workshop, you will discover and explore the easy-to-learn Zentangle® method, while acquiring a sense of calm and freedom. With every ink stroke and graphite shading, you will create beautiful images of 'tangles' (structured patterns) inspired by your daily surroundings. Slowly guided by core 8-steps of Zentangle, you will ease into and enjoy each step as you will unwind and deepen your focus by staying in the moment. If you can write '• I C S O' you are ready to 'tangle.' Rekindle and boost your creative confidence 'one-stroke-at-a-time'. In Zentangle there are 'no mistakes, only new opportunities. This fun workshop is for beginners and for seasoned tanglers who wish to revisit the familiars with renewed outlook.
Click on the link below for more information plus kit cost paid to instructor first day of workshop:
Clay Studio
$40
Register by January 13.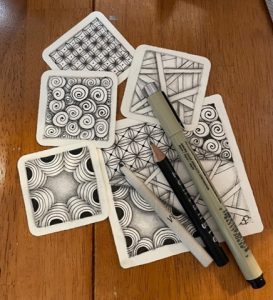 Address:
1400 N. Monroe Street
,
Tallahassee
,
Florida
,
32303
,
United States