Zentangle in the Round (4 Weeks)


February 22, 2023 - March 15, 2023




1:30 pm - 4:30 pm
Zentangle® in the Round
Instructor: Starr Payne
February 22 – March 15 (4 weeks)
Wednesdays 1:30 – 4:30 pm
Explore geometric flow and the circular structure of mandalas using the Zentangle drawing method using a round "Zendala" tile. This 4-week workshop, you will continue to explore easy-to-learn Zentangle® method, acquiring a sense of calm and freedom. With every ink stroke and shading with graphite, you will create beautiful images of 'tangles' (structured patterns) inspired by your surroundings. Using the core 8 steps of Zentangle, we will use pre-strung round Zendala tiles and the core 8-steps of Zentangle, you will ease into and enjoy each step as you will unwind and deepen your focus by being in the present. If you can write '• I C S O' you are ready to 'tangle.' Rekindle and boost your creative confidence 'one-stroke-at-a-time' for Zentangle there are 'no mistakes, only new opportunities.
Click on the link below for more information plus kit cost paid to instructor first day of workshop:
Clay Studio
$40
Register by February 13.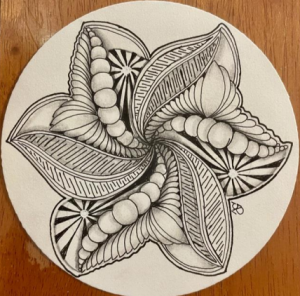 Address:
1400 N. Monroe Street
,
Tallahassee
,
Florida
,
32303
,
United States